I'm wearing pink and yellow. No great surprise there, except this was my Easter outfit and who doesn't want to dress like an Easter egg at this time of year?! Maybe just me then…
I tend to think that Easter heralds the start of spring proper, so there's usually no way I'm ever going to wear something dark for Easter. This year Easter Sunday coincided with the March family birthday party I mentioned in my quarter year review post on Friday (which I might make a regular thing) and I originally picked out an outfit of burgundy trousers and deep blue floral blouse… It just seemed so WRONG somehow. I found myself reaching for the pink and yellow which was a much happier choice – and what could top off an outfit fit for an Easter egg but a camel coat (which may as well be brown for chocolate, no)?!
Disclosure: This post contains affiliate links which means if you click through and buy I may receive a small commission at no cost to you (click here for my full disclosure). Items listed as* were gifted.
I'm SO much happier in these sorts of colours – I'm totally over winter and while we seem to have lost the snow for good we now have the rain. April showers are in full force and I don't think we'll see any sun till tomorrow. But tomorrow is Keith's birthday and so we'll have to think of something to do that'll keep us dry and warm, and the pub lunch (log fire is a must) is still looking like a good choice.
SHOP THE LOOK:
Now I look back at these pictures I love this outfit a whole lot more than I did on the day. It's one of those combinations that didn't set my world alight in the mirror (I mean, I quite liked it), but it really, really works on camera. None of the pieces are new except for the fabulous (and newish) pink ruffle boots* (UK link) which I wore in February with shades of pink and blue. The longline coat has been with me for years, has been worn countless times and will be worn countless MORE times I'm sure.
There are some pieces you own which seem to work with everything no matter what the base outfit is, and this coat is one of them. This coat by Winser is similar (on sale!) and I guarantee you it will be worth every penny, especially in a colour like camel.
I have a busy couple of weeks ahead with various projects I'm still working on – all to be revealed in due course – as well as house viewings which we hope will result in an offer before long. It would be nice to move in the summer, fingers crossed the people who come to see our house love it as much as we do (I know we're moving but we still love the home we've poured so much love and hard work into)…!
Do add your outfits to this week's link up – and if you've added a link to here or my button to your post you may be featured next week!

DID YOU DRESS UP FOR EASTER THIS WEEKEND? TELL ME IN THE COMMENTS…
Want to see other ways I've worn these pieces?
The same camel coat styled differently: How to Style Culottes – With Snakeskin Boots and a Camel Coat OR With a Preppy Stripe Dress and Cropped Burgundy Flares
The same yellow blouse styled differently: The Colours of Summer: Yellow Ruffle Blouse, Blue Chinos, Oversized 70s Sunglasses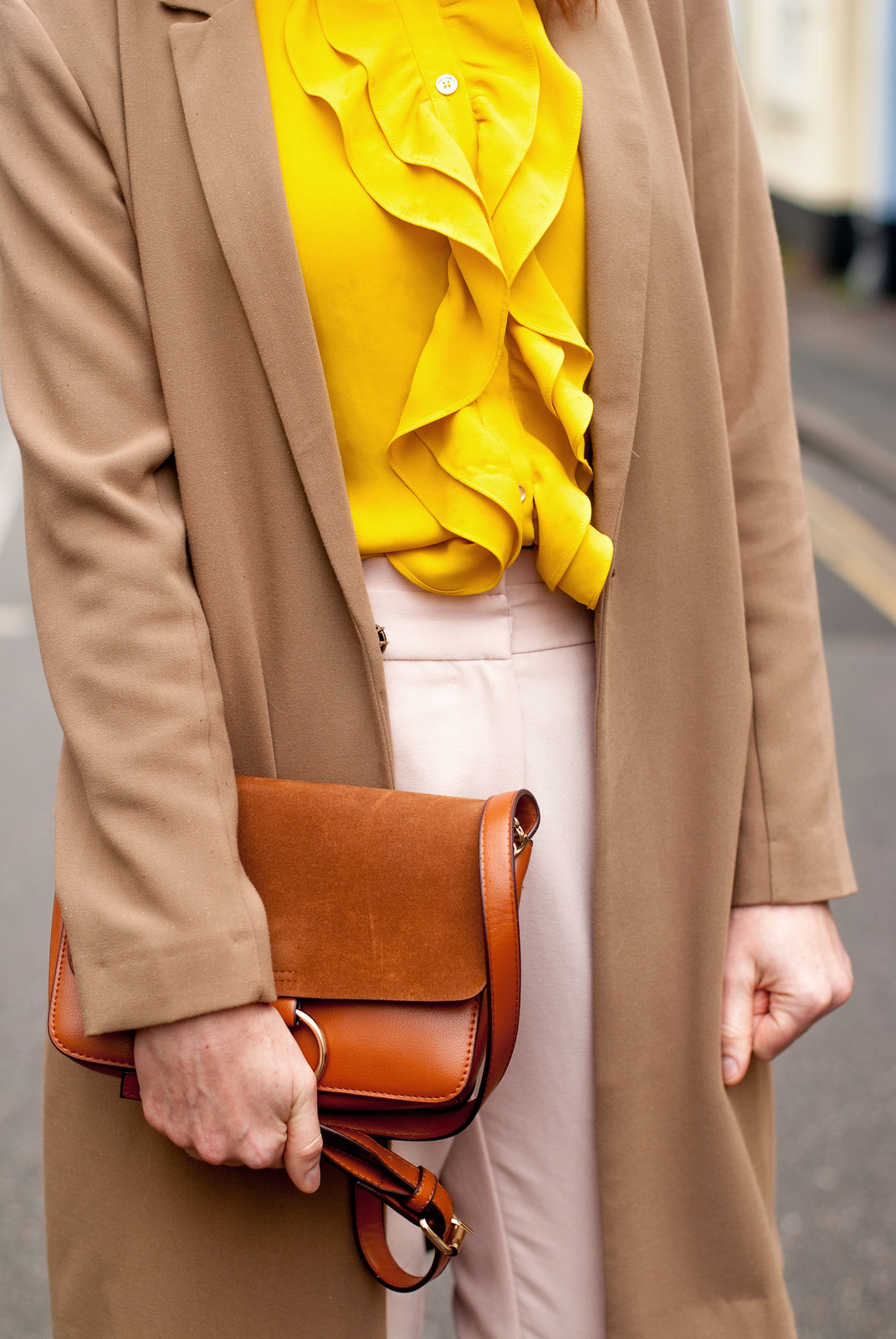 Coat: Asos (love this classy Winser one)
Blouse: Oasis (love this one, or see all the other alternatives in the widget below)
Trousers: Oasis (similar, I also like these and these)
Boots: JD Williams* (UK link)
Sunglasses: Mango (similar)
Earrings: Mango (I like these)
Bag: Yosa* (similar)
OTHER YELLOW RUFFLE SHIRTS YOU MIGHT LIKE:
. . . . . . . . . . . . . . . . . . . . . . . . . . . . . . . . . . . . . . . . . . . . . . . . . . . . . . . . . . . . . . . . . . . . . . . . . . . . . . . . . . . . .

Thank you for joining the #iwillwearwhatilike link up! This started as a campaign on Instagram in August 2015 where women over 30 wore everything on a journalist's list of "inappropriate" items for 30+ women (including leopard print, short dresses and oversized sunglasses. Yes, really). It was so popular that I decided to carry it on weekly where women of all ages link up their fabulous style, never mind what anyone tells them not to wear!
The link up goes live every Monday at 3 pm UK time and will stay open for a week. Whilst the original article was of course aimed at the 30+, you can be ANY age to link up. The only criteria is that you're wearing whatever you damn well like!
Linking up etiquette…
CLICK HERE to read the rules of linking up (and to grab the #iwillwearwhatilike button). Basically it's just good manners to link back to here – to leave a comment is even nicer!
Featured favourites
My favourite outfits from last week's link up:
(L-R) Living on Cloud Nine | Suzy Turner | Anna's Island Style
To get yourself featured next week, make sure you've included a link back to Not Dressed As Lamb or my button in your post/sidebar!
Do share the love and visit as many links as you can (you never know what other lovely like-minded ladies you might meet) – the original Instagram campaign forged some wonderful new friendships so don't miss out!