Not that I want to panic you or anything, but New Year's Eve is only nine days away… Have you got your party outfit sorted yet?
If you haven't then don't worry – I've picked out 11 of my own party or date night outfits that I've worn over the last few years that would be perfect for your New Year's Eve celebrations, whether the dress code is casual, dressy or formal.
I've featured jeans and a sparkly top right through to formal gowns – and everything in between. I've got combinations you've maybe not tried before (a dress over kick flares). I've got vintage dresses so that you're guaranteed not to turn up in the same dress as someone else. I've got statement tops and funky clutches and beautiful dresses.
In other words, all bases are covered. Use my outfits as inspiration for putting something together from your existing wardrobe, or use my suggestions of shopping links in case you want to get something just for the occasion. Hopefully there are a variety of styles, colours and shapes to suit all budgets and tastes.
But don't delay – get your outfit sorted before Christmas (if you can), or at least start to think about it: I'm thinking order now, and get it delivered between Christmas and New Year. It'll be like another round of gifts for just yourself to open… You've got to stretch out the Christmas spirit as much as you can!
So let's start with casual…
~ Casual outfits (when you can dress up jeans)
Look 1: Faux fur gilet and a statement necklace
A faux fur gilet is a really "semi glam" piece: It not only keeps you warm but adds a touch of luxury to an otherwise casual outfit. Bold jewellery ups the glamour level even more – all whilst wearing jeans. Original post >>
SHOP FAUX FUR GILETS AND BOLD JEWELLERY:


Look 2: Statement top and mules
If you choose a statement top (my top in this picture is still available and on sale) you can get away with wearing almost anything with it, it'll still look fabulous – especially if you go for something with glitter or sequins. Choosing this year's on-trend shoe shape, the mule, is a great way to stay comfy all night in heels and have a shoe that's Spring-ready. Original post >>
SHOP STATEMENT TOPS AND MULES:


Look 3: A patterned blouse and funky clutch
Instead of going for sequins or glitter why not try a patterned blouse? They're dressy enough for a party but can then be toned down in the day for work with a neutral blazer. Add a fabulous clutch and you'll have a great conversation-starter on standby. Original post >>
SHOP PATTERNED BLOUSES AND CLUTCHES:


~ Dressy outfits (dresses or trousers)
Look 4: A red dress that does all the talking
Forget LDBs, the LRD is the dress that'll do all the work for you. A little red dress is a real head turner, all you have to do is add heels and maybe some minimal jewellery and you're good to go. This Hobbs red pleated dress is less than half price so snap one up while there are still some available. Original post >>
SHOP LITTLE RED DRESSES:

Look 5: A skater dress over kick flares
I've worn this combination so many times over the years it's pretty much my signature look – but a short dress (especially a skater or fit and flare style) over kick flares gives you perfect proportions to lengthen legs PLUS is a great solution for those of us who aren't keen on getting their legs out. Always choose a cropped length and wear heels to elongate those ankles. Original post >>
SHOP SKATER DRESSES AND KICK FLARES:


Look 6: A long blazer over a shift/bodycon dress and patterned tights
This is a pretty bold look but the long blazer tones it down a little, especially if you're self-conscious about wearing a tight or slim-fitting dress. Patterned tights are back in so dig out all the ones you had from a few years ago (I'm glad I kept mine), or shop some of the new styles below. Original post >>
SHOP SHIFT DRESSES AND PATTERNED TIGHTS:


Look 7: A statement blazer with bold heels
Like a reverse of the outfit above, this outfit is all about the blazer. With a statement blazer or jacket you only need a plain t-shirt or top plus trousers (black will always work if you don't have many coloured trousers), but add some interest with bold heels and you're done. Original post >>
SHOP STATEMENT BLAZERS AND BOLD HEELS:


Look 8: A cape that will lift the plainest of outfits
One of my absolute favourite looks of 2016, this cape-and-culottes combo is an absolute winner. Add a cape to anything and it'll make it look fabulous. You can get tailored capes, feathered capes, faux fur capes, velvet capes… The choice is endless. Always great for adding a touch of glam to plain dresses, trousers or even jeans. Original post >>
SHOP CAPES:


~ Formal outfits (long gowns or evening wear)
Look 9: A floor length gown or maxi
If you've got a black tie or formal dress code party invite, you've got to go for a long gown. This is not the time to be a wallflower – look in the sales and you'll find lots of dresses on sale with amazing prints or embellishments in beautiful fabrics. Original post >>
SHOP MAXI DRESSES: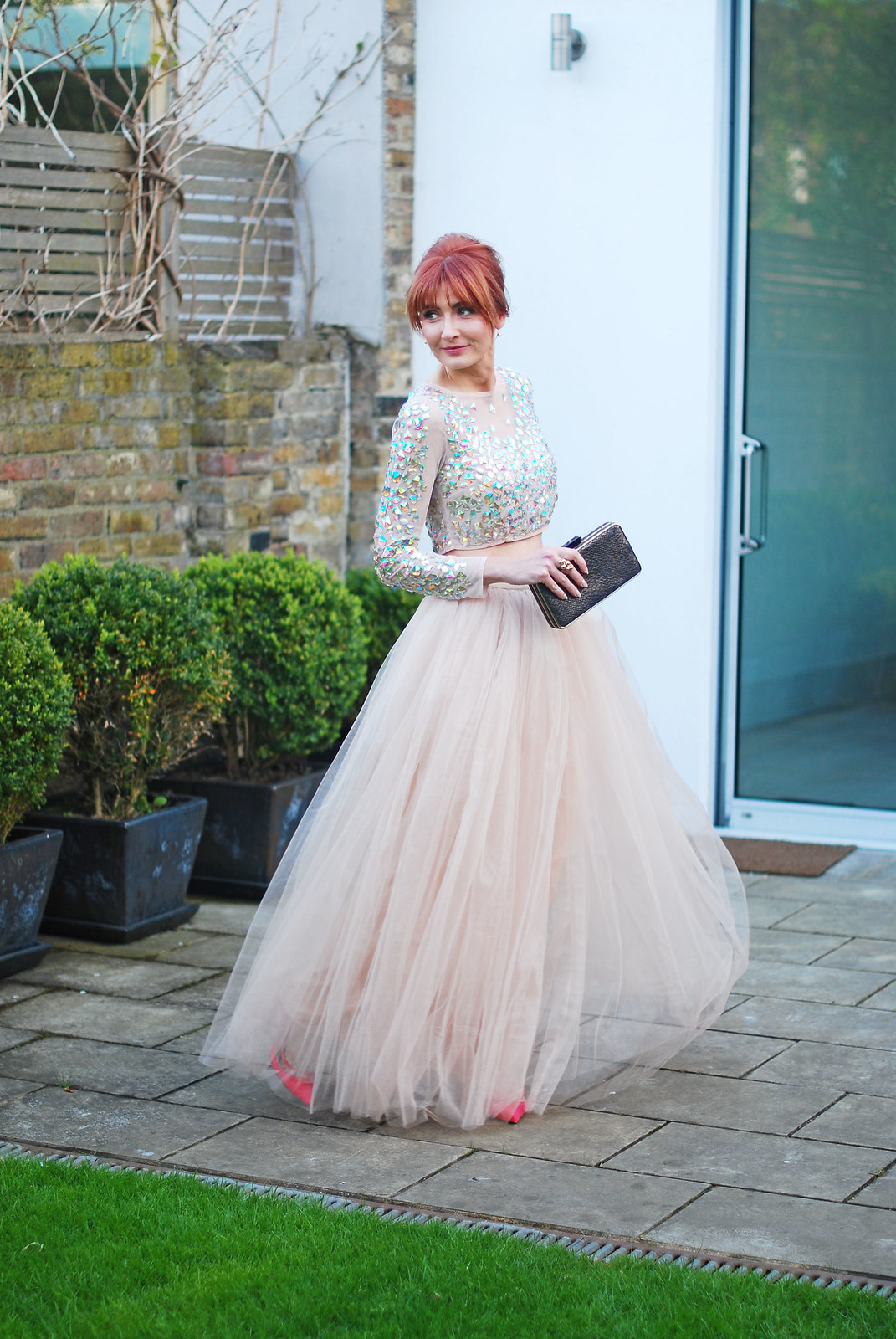 Look 10: A sparkly top and tulle skirt
This is the one of the most glamorous outfits to achieve with the least amount of effort (and one where you won't turn up in the same outfit as another party guest). One sparkly top + one tulle skirt = super glam outfit. Don't worry about "crop tops" if that's how they're described on retailers' websites: Tulle skirts are generally high-waisted so you won't be flashing your midriff 90s-style. And if tulle isn't your thing, try a full length, satin skirt instead. Original post >>
SHOP SPARKLY TOPS AND TULLE SKIRTS:


Look 11: A vintage gown
Vintage is nearly always my go-to for an event: You'll end up with something totally unique, it'll pretty much never go out of fashion and it won't be seen on anyone else. I've picked a bunch of true vintage gowns for you (from the 50s to the 80s), but if the one you like isn't your size, search for "vintage gowns" on Etsy (refine your search by price to work within your budget) – they have an amazing selection. Original post >>
SHOP (TRUE) VINTAGE GOWNS:


WHAT WILL YOU BE WEARING FOR NEW YEAR'S EVE THIS YEAR? COMMENT BELOW, OR TAKE IT TO TWITTER @NOTLAMB!
Pin for later!
LIKE THIS POST? YOU MIGHT ALSO WANT TO READ…
– Dressed Like a Fairy Princess in a Sparkly Crop Top and Maxi Tulle Skirt
– What to Wear to an Awards Ceremony | Vintage 1970s Evening Dress