I'm wearing a blue and white coat with dark trousers for the second week in a row, but this outfit is very different.
[Reading time: 3 minutes]
I hadn't actually realised how the bones of this outfit were similar to last week's when I wore it, but they're only similar on paper. Both coats are blue and white, both bottom halves are dark, both pair of boots are dark, both hats are woolly and cream.
Maybe I'd just (subconsciously) found a formula I liked and stuck with it two weeks in a row?!
Firstly, to explain the tardiness of this post: We've had some very changeable weather the past week or so. Today's gales and pouring rain kept interrupting the WiFi, so I had to walk away from writing this as I was getting a little… frustrated. Hence, a very late publishing time.
I think I'd been momentarily transported back to 1998 and my dial-up was making fast internet impossible #eyeroll
Disclosure: This blog uses affiliate links (at no cost to you) and any items listed as* were gifted within the last 12 months. Full disclosure
SHOP THE LOOK:
The practicality of this outfit overruled anything else that was going on here. The star of the show was the check coat (similar) – one I've had for ages and worn loads IRL – but I could only find one other time I'd worn it on the blog (see here – oh, remember the days of Pantone's Rose Quartz and Serenity)!
The brand was Ganni, as was the sweater. I'd bought both pieces in the Asos sale and they were the bargains of the century at the time: the coat was £320 down to just £54(!), and the sweater was reduced from £150 to £32. So both are top quality, both have been worn loads and loads and both would have been VERY good investments even at the original prices.
I'm not normally one to be swayed by the actual percentage of a discount, but as long as I really love something then a huge reduction means I'm getting great quality at a very low price.
But I DID find many examples of outfit posts with the roll neck sweater, so that's what I've featured in today's 5 Ways to Wear (below).
Wearing this coat 80s style
I actually bought this coat because it reminded me of a coat my sister bought in the early 80s that I'd always, always loved and remembered. A while back I asked her if she still had it (which of course she didn't), so this one got snapped up when I saw it.
With regards to the 80s styling… it was a super cold day when I wore this. As the coat is a loose style and buttons up low I felt I needed to cinch it in just to keep my middle warm, so I grabbed a wide belt. It created the 80s belted coat look and made the shoulders look HUGE.
Did it make me look bulky? Probably. Did I care? Not a bit. I was warm, I was comfy, I kinda liked the wide-shouldered 80s thing I had going on. I happened to be wearing two of my best bargains ever for the umpteenth time. What's not to love??
Have you managed to bag a monumental bargain recently or in the past? Comment below…!
P.S. Do add your outfits to this week's link up – and if you've added a link to here or my button to your post you may be featured in my bi-monthly Women Who Wear What They Like post!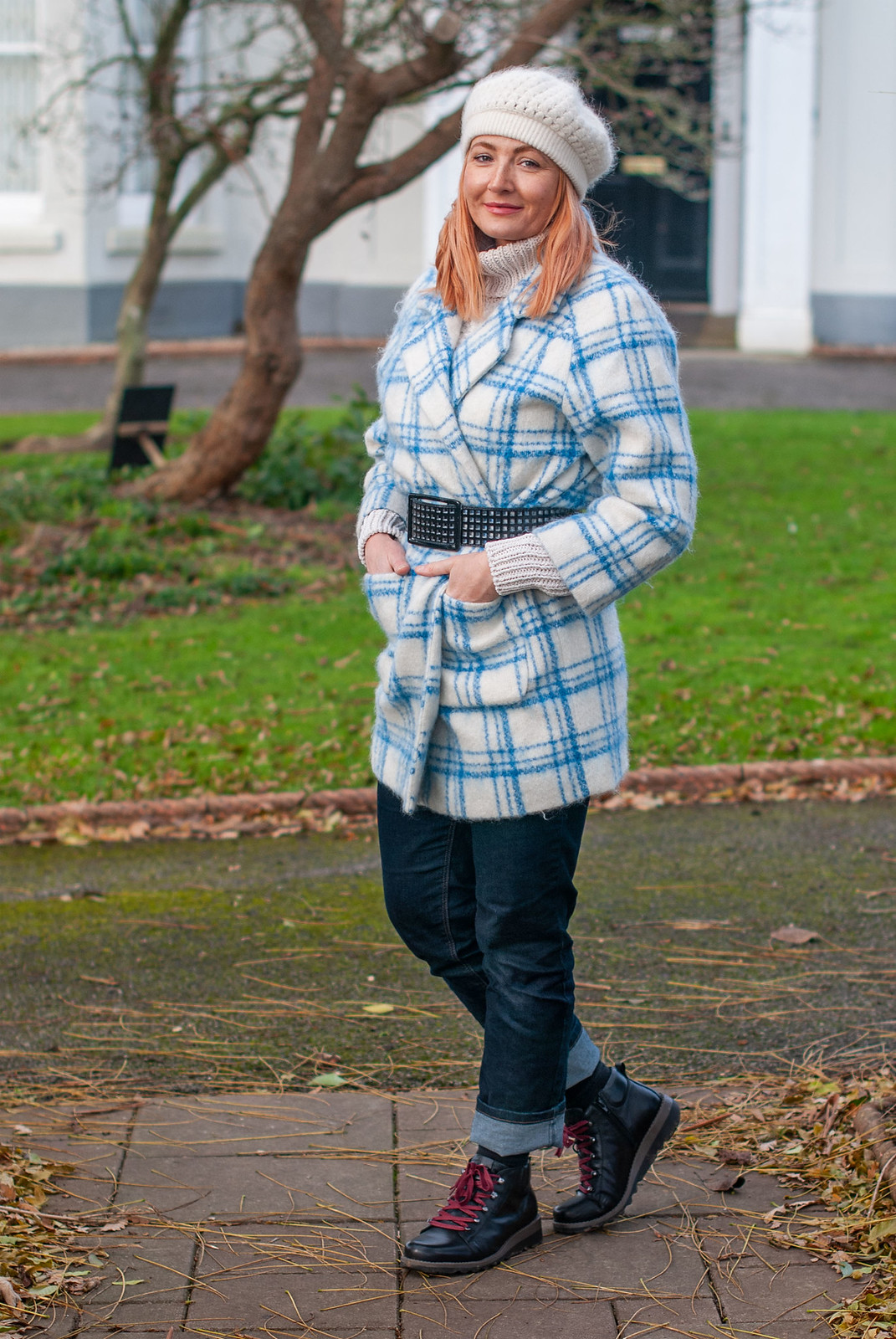 Coat: Ganni at Asos (similar)
Sweater: Ganni at Asos (LOVE this one)
Jeans: JD Williams*
Boots: Josef Seibel*
Hat: Debenhams (similar)
Belt: Unknown (alternative)
OTHER CREAM ROLL NECK SWEATERS YOU MIGHT LIKE:
.
5 ways to wear a chunky, cream roll-neck sweater…
Here are some of the other ways I've worn my chunky roll-neck sweater so you can see the different ways it can be styled:
Original posts: Top middle / Top right / Bottom middle / Bottom right
Pin for later!
✷ ✷ ✷ ✷ ✷
Thank you for joining the #iwillwearwhatilike link up!
This started as a campaign on Instagram in August 2015 where women over 30 wore everything on a journalist's list of "inappropriate" items for 30+ women (including leopard print, short dresses and oversized sunglasses. Yes, really). It was so popular that I decided to carry it on weekly where women of all ages link up their fabulous style, never mind what anyone tells them not to wear!
The link up goes live every Tuesday at around 3pm UK time and will stay open for a week. Whilst the original article was of course aimed at the 30+, you can be ANY age to link up. The only prerequisite is that you're wearing whatever you damn well like!
Linking up etiquette…
CLICK HERE to read the rules of linking up (and to grab the #iwillwearwhatilike button). Basically it's just good manners to link back to here – to leave a comment is even nicer!
Click here to enter

PLEASE NOTE: This is for linking up WHAT YOU'VE BEEN WEARING ONLY. Non-outfit links will be removed! Also: by linking up you're saying it's okay for me to drop you an email to say the link up is open – you can unsubscribe at any time.