My last post – my monthly Best of the Blogosphere round up – featured not one but two links to a similar theme: natural makeup.
Or, as it's sometimes referred to: no makeup makeup. (The latter, however, can be something quite different to natural makeup… it all depends on your take on it.) If you didn't read the links, please check out the post here – it features links to one 50 year old in barely-there makeup and one 23 year old in natural makeup. Both women are absolutely stunning, yet they both look fresh-faced and let their features (rather than the makeup) do the talking.
Now this is where I should make it clear that although this post is in praise of natural makeup, I am in NO WAY criticising the fact that some women and young girls like a stronger, heavier look. "Instagram makeup", as it's often called, is the complete opposite of the natural look. But in the same way that I believe in people wearing whatever they like, I believe it applies to makeup as well.
And also in the same way that I feel that a woman has the right to wear, for example, a skintight, short, cleavage-revealing dress with Pretty Woman-style patent boots if she wishes, it doesn't mean I personally LIKE that sort of look. But if that type of dress is totally you, then damn well go for it, I say. I won't go onto an Instagram account and say "love your look!" in a faux fawning kind of way, and likewise I sure as sh*t won't criticise them just because it doesn't appeal to my taste. I just fall silent and scroll on, happy for them that they're happy with what they're wearing.
So yes I'm labouring the point here: I love natural makeup. But then again, I love some not-so-natural makeup looks as well. Personally, I just don't like the way that I look with heavy or dark makeup anymore… I've experimented a lot over the years and have done the full face with strong eyes and strong lips thing just as much as any Instagram makeup lover – probably more so, in fact.
My version of natural makeup… and no-so-natural makeup
The selfie I posted this week got a lot of likes and comments, and it seems I'm not the only one singing the praises of natural makeup. The makeup I wore wasn't strictly natural (meaning almost no makeup) – I was still wearing foundation and blush with enhanced freckles and eyebrows as well as eyeshadow and eyeliner, gloss and highlighter. I was trying lots of new products so I still ended up with a full face of makeup, but in natural colours and nothing too heavy-looking.
To be honest I've realised I don't really have a point to this conversation other than the fact that I make no secret of the fact that I'll be super glad when the Instagram makeup look goes out of fashion and we have something else instead. Maybe that means that bold eyebrows will give way to thin, plucked eyebrows again? I know most 20-somethings would be HORRIFIED at the thought of having skinny brows like we did back in the 90s (or the 70s!), but 20 years ago who'd have thought that huge, dark brows would one day sweep across the faces of young women the world over?
In the spirit of social media RESEARCH ( 😉 ) I thought I'd see what I looked like with "Instagram makeup"… I hope you're prepared for this: I tried an app on my phone called Perfect365 which paints makeup onto your face:
I gave myself the works: cat eyeliner, lashes, eyeshadow and dark lips (ewww…) – then I erased my freckles, which unfortunately left grey blobs all over my nose. And a good helping of "foundation" which smoothed out my skin's uneven tone (except for the grey nose situation). This also proves that you should never, ever believe someone is necessarily as "perfect" as you might think they are: I stopped short at making my eyes bigger, lifting my cheekbones or slimming my face (all possible with the app, eek).
It's pretty funny, but it's also pretty scary (reminds me of my 40-year-old uber-Photoshopped face post from several years back).
If I were to do my makeup like that for REAL I can't say it'd be too flattering. I think I look a thousand times better with the patchy skin tone and the paler eyes – I think I look younger "as myself".
In the meantime I salute the girls who apply the makeup they want to apply, and wear the makeup looks they want to wear. Whether that's natural or not-so-natural, it's all about pleasing yourself, no matter what. I may have my own personal preferences about when someone looks "better", but it doesn't mean I'm right, does it…?!
WHAT ARE YOUR PERSONAL MAKEUP PREFERENCES? WHAT DO YOU THINK OF "INSTAGRAM MAKEUP"? TELL ME IN THE COMMENTS!
LIKE THIS POST? YOU MIGHT ALSO WANT TO READ…
– My 40 Year Old Face, Uber-Photoshopped
– My 40 Year Old Face | Is There Beauty In Symmetry?
Before and "after":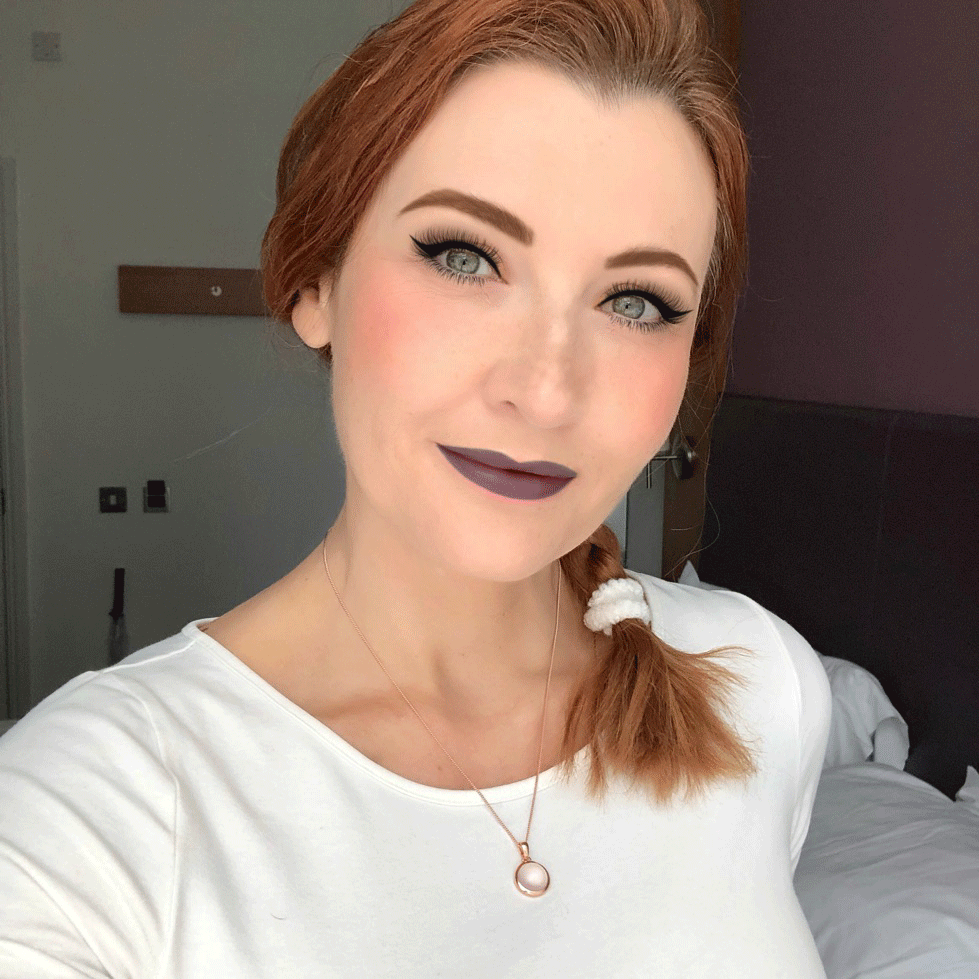 So all that's left to say is – I've shared my thoughts/stories/tuppence-worth this week, now it's time to share yours… LET'S GET THIS [LINK UP] PARTY STARTED!
. . . . . . . . . . . . . . . . . . . . . . . . . . . . . . . . . . . . . . . . . . . . . . . . . . . . . . . . . . . . . . . . . . . . . . . . . . . . . . . . . . . . .
Thank you for joining the #SaturdayShareLinkUp! Designed to allow you to share anything you like on ANY topic, it goes live every Friday at around 8pm UK time and will stay open for a week. You can share blog posts or Instagram posts, old posts or new posts, and link up as many as you like.
PLEASE be kind and leave a link somewhere on your post, and share your post using the hashtag #SaturdayShareLinkUp – if you tweet your link with the hashtag and tag me in @notlamb I'll even retweet it to my followers for you 🙂
Want to receive an email reminder for the next link up?
Please note that due to the new GDPR laws I'm unable to send an email reminder unless you subscribe to the mailing list of your own accord. CLICK HERE if you wish to be sent an email with a reminder to link up to the #SaturdayShareLinkUp as soon as it's live!