I didn't quite realise quite how bright this outfit was at the time – I guess you could call this look (extreme) primary brights colour blocking.
I was purposely wearing two pieces from the Hobbs SS16 collection (the yellow cashmere sweater and the orange tote bag) as I spent a rather fabulous day with a few people from their team shooting some street style photos in my part of the country (Exeter in Devon, SW England).
The photos are for a campaign I'm working on with Hobbs at the moment – if you're in London on the 8th June and would like to meet me at an event I'm hosting (for customers, it's not aimed at bloggers), get yourself on the Hobbs mailing list or check back here on 26th June when I'll have full details in a post for you. It promises to be an exciting event and I'd love to see you there if you can make it!
I wore my sweater and took my tote because I own them already and I wanted them to be part of some of the outfits I chose for the photo shoot… It made sense to just take mine rather than having duplicates sent down from London. (You can see a little sneak preview of one of the outfits on my Instagram, the stunning red Santiago dress.)

IT WAS THE SECOND TIME I'VE DONE A STREET-STYLE PHOTO SHOOT, BUT THIS WAS IN MY LOCAL AREA. I WAS IN FEAR OF SOMEONE I KNEW SEEING ME STRUT ABOUT CROSSING THE ROAD, SWAYING IN A RED DRESS OR POSING AT A CAFÉ.
It was the second time I've done a street-style photo shoot (the first time was for Fever London), but this was in my local area. I was in fear of someone I knew seeing me strut about crossing the road, swaying in a red dress or posing at a café – all while a photographer was shooting endless shots and two other girls from the team looked on. Luckily no one I knew saw me – or at least I didn't see them [thank god]!
SHOP THE LOOK:

I've definitely got more used to having photos taken in public over the years, but you get more looks in a town that's not used to people prancing in swanky clothes doing photo shoots (London in other words) – and you attract a fair amount of attention swooshing about in a red pleated maxi dress.
So this outfit was my comfortable but stylish, easy-to-take-on-and-off outfit for the day. The gorgeous weather suited all those brights and it was so nice to finally be able to go bare-legged at last.
HOW ARE YOU WHEN IT COMES TO HAVING YOUR PHOTO TAKEN? DO YOU LOVE IT (LIKE ME AND MOST OF MY FAMILY) OR DO YOU SHY AWAY…? COMMENT BELOW, OR TAKE IT TO TWITTER @NOTLAMB!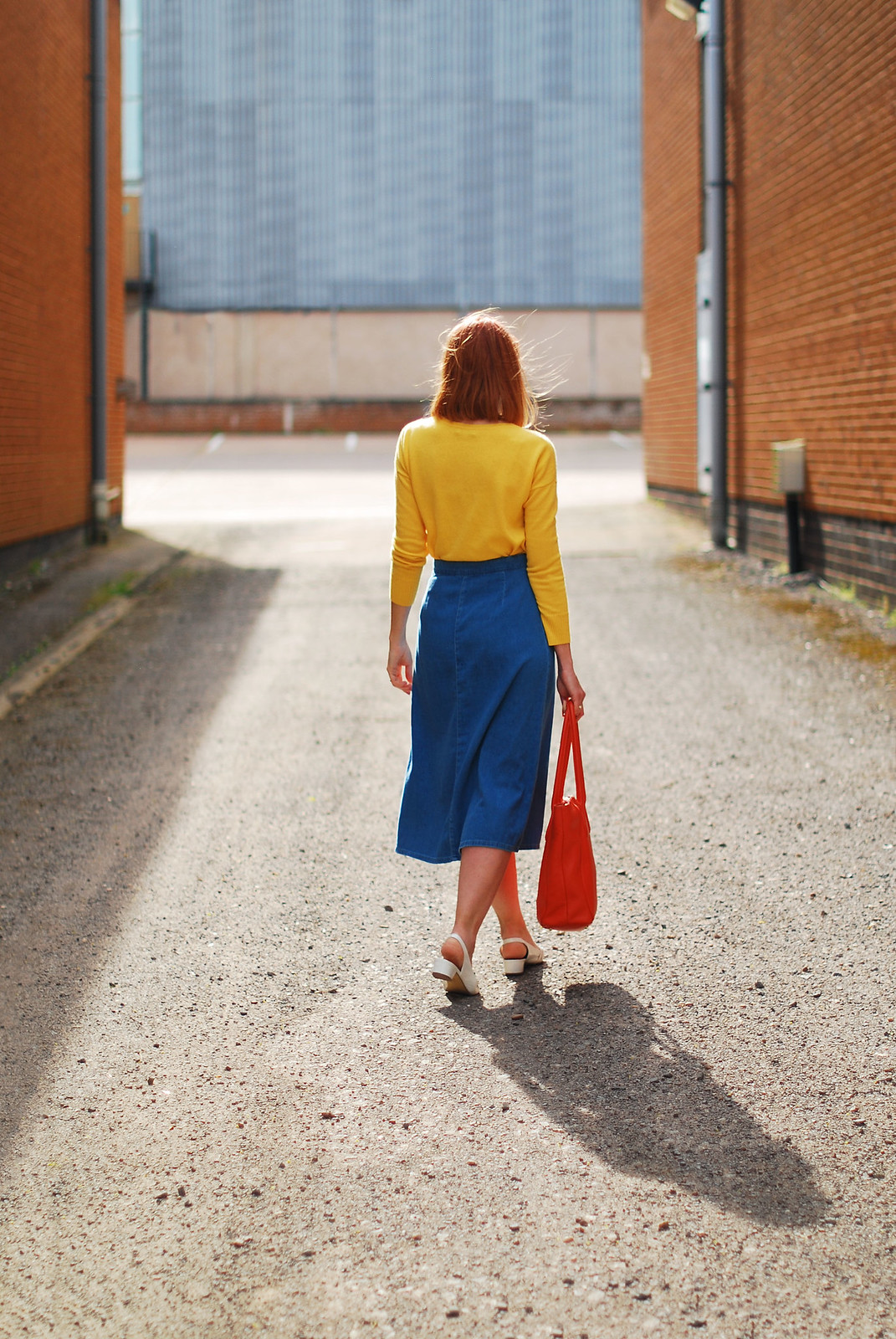 Hobbs cashmere sweater c/o | ASOS skirt I like this ruffle hem denim midi skirt) | Hobbs Adlington tote c/o | Debenhams shoes (these white pointed flats are similar) | ASOS sunglasses (a copy of the Ray-Ban mirrored aviators) | Crabtree & Evelyn 'Lilac' nail polish c/o (Butter London 'Fancy' is similar)
FACEBOOK | TWITTER | INSTAGRAM | BLOGLOVIN | YOUTUBE | NEWSLETTER
LIKE THIS POST? YOU MIGHT ALSO WANT TO READ…
4 WAYS TO INTRODUCE BRIGHT COLOUR TO YOUR WARDROBE
Linking up to: Style Stories, iwillwearwhatilike, Visible Monday, Shoe and Tell, Monday Mingle, Style Sessions, Turning Heads Tuesday, Trend Spin Link-Up, What I Wore Wednesday, Brilliant Blog Posts, Throwback Thursday, My Refined Style, Passion for Fashion Friday, Friday's Fab Favourites, Fun Fashion Friday