I am so excited to be publishing these pictures – I've got sea, sky, the most beautiful light imaginable and full-on nautical style. Every so often a magical photo shoot happens, and this was one of those times. So why am I down at the coast (the wonderfully named fishing village of Beer in Devon) I hear you ask?
We photographed these pictures down by the sea because I've entered the OCEAN Exclusive Blogger Challenge to create my perfect yacht outfit for summer 2015 – what I would like to wear on one of their yachts, in other words. I thought it would be impolite to wear anything other than nautical style – so it's white and navy all the way. As the prize involves a day trip to Monaco (how amazing would that be), I also thought it fitting to be inspired by Monaco's most famous princess, Grace Kelly. I gave a 50s-style outfit a modern twist with a bold navy and white tunic dress over navy slacks, striped pointed espadrilles and that essential accessory for any aspiring Princess Grace: the wide-brimmed sun hat.
The photos show me down at the harbour waiting for my dream yacht to come and pick me up – the yacht of my dreams would be a navy and white yacht called "Belle Isle" which I chose because it coordinates perfectly with my outfit. Of course, I'd only travel on yachts that don't clash with my outfit choice, darling. And the interior and the deck are to-die-for. A girl can dream, right…?!!
So who knows, maybe I'll get to go to Monaco for the day. Fingers crossed for me in the competition 🙂
It may still be freezing in many parts of the world but I am SO looking forward to some warmth coming our way very soon – it was nice to "think summer" putting this outfit together. Are you into nautical looks? What would YOU wear on a luxury yacht (and have you been on one?), I'd love to know!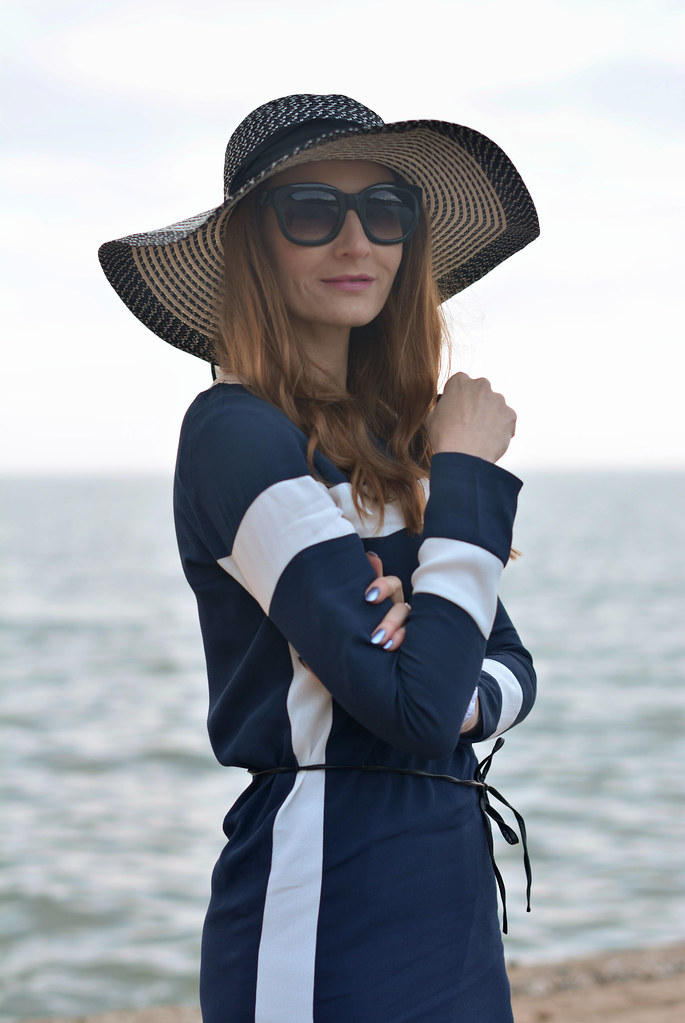 Tunic dress: Asos | Trousers: Asos | Shoes: Asos | Hat: Asos | Sunglasses: c/o Lulus | Watch: Fossil | Nails: Models Own Chrome Blue
Shop the look (and the yacht 😉

P.S. Like this outfit? You might also enjoy two other nautical-inspired posts from the archives: Tribal Maxi Dress At The Quay and All I Need Now is a Yacht!
Linking up to: Visible Monday, Let It Shine, Share in Style, Monday Mingle, Style Sessions, Trend Spin Link-Up, What I Wore Wednesday, Throwback Thursday, Passion for Fashion Friday, Fashion Friday, Friday's Fab Favourites
This is a competition entry for the OCEAN Exclusive Blogger Challenge. I have not been compensated by Ocean.