As I mentioned in my Wearing My Wedding Dress Challenge post, I'm hopelessly addicted to watching Say Yes to the Dress, the reality show where the consultants at premier NYC bridal salon Kleinfeld help brides-to-be find the perfect wedding dress.
(Disclaimer: If you've not watched it but are curious, I'll warn you now about how addictive it is. I cannot be held responsible for any suffering caused as a result of excessive time spent watching the show instead of getting on with your real life.)
As someone who got married in trousers, I find the business of shopping for wedding dresses utterly compelling. I have no idea why it holds so much fascination for me – I certainly didn't dream of having a big white wedding dress when I was a little girl – so the fact that I love poring over wedding dresses on Pinterest and on TV shows amuses (and surprises) me.
What surprises me even more, however, are the astonishing prices of wedding dresses. After watching so much Say Yes to the Dress I'm now somewhat numb to a bride having a budget of $5-$10,000, and almost think Ooh she's on a budget when the bride says she needs to cap it at $2,000.
AFTER WATCHING SO MUCH 'SAY YES TO THE DRESS' I'M NOW SOMEWHAT NUMB TO A BRIDE HAVING A BUDGET OF $5-$10,000
When I stop and think that $2,000 is about £1,300 I have to remind myself that it's still a huge amount of money to spend on a dress that you'll only wear for less than a day. My whole wedding cost less than that (and I mean everything) – it was 10 years ago and we did go for a very, very minimal affair – but I know that every bride has her own priorities and can chose to spend whatever she wants, wherever she wants.
And if she can afford several thousand on her dress, then why the hell not? (I do, after all, advocate the whole notion of #iwillwearwhatilike on this blog).
But there are, I'm sure, many brides for whom several thousand on a dress just isn't a reality, or a possibility, or they may simply think that that amount of money is better spent elsewhere. I often see dresses whilst shopping online that I think would make great wedding dresses. Not an actual bridal gown, but a dress that would create the perfect look for the right setting and the right theme – all at a fraction of the cost of any Kleinfeld creation.
So after seeing so many of these types of dresses I decided to put together a post linking to 30 wedding dresses for brides on a budget – and they're all under £1,000 ($1,500).
Some are traditional styles, some are vintage-looking and some are a little (or a lot) more edgy. Probably only half are specifically wedding dresses/gowns, but who cares what it was designed for, right? (Right back to #iwillwearwhatilike again.)
There are some pretty amazing dresses out there that for an everyday dress would seen extravagant, but in comparison to a $5,000+ gown they're an absolute steal. Depending on what you buy it's not only a great way to save money but it's also your chance, for example, to own a McQueen, a Vera Wang or a Victoria Beckham dress.
DEPENDING ON WHAT YOU BUY IT'S NOT ONLY A GREAT WAY TO SAVE MONEY BUT IT'S ALSO YOUR CHANCE TO OWN A MCQUEEN, A VERA WANG OR A VICTORIA BECKHAM DRESS.
I've picked 5 short (midi to mini) and 5 long (floor length) dresses in three groups of price ranges:
Under £200, £200 to £500, and £500 to £1,000. With the money you save you could also spend the extra you may have budgeted for on a tailor: Get them to make alterations so it fits you perfectly (so buy a size up if you're unsure). If it fits you like a dream it will make it look more expensive.
GET A TAILOR TO MAKE ALTERATIONS SO IT FITS YOU PERFECTLY. IF IT FITS YOU LIKE A DREAM IT WILL MAKE IT LOOK MORE EXPENSIVE.
I haven't picked dresses from a massive selection of stores, but rather about seven different retailers which, in my opinion, are the best places to go for a non-bridal wedding dress:
Asos £ – Always on trend and very low prices.
Monsoon ££ – Known for beautiful, heavy embellishment, they have a great budget bridal range.
Phase Eight ££ – Short and long dresses in a range of modern and vintage styles.
Zalando £ to ££ – The European retailer that has the widest range of price points.
Nordstrom ££ – Lots of gowns and shorter dresses that would work beautifully as wedding dresses.
Selfridges, Shopbop and Net-a-Porter £££ – Lots of designer ranges to choose from that still work out much cheaper than specific bridal ranges.
Whilst shopping I did come across a few specifically-bridal wedding gowns, so I've included them as well.
They're all occasion-appropriate, depending on the venue, so I think there's something for everybody. There are also some great choices of dresses for anyone getting married a second time (or renewing vows) who doesn't want to spend a fortune. I love all the ones I've chosen – I just need to convince the husband to marry me again so I can get one for myself…!
Which dress would you chose for yourself if you were getting married – maybe you ARE getting married soon or know someone who is (if so please forward them this link)!

I'd have to choose between the Monique Lhuillier (no.4) or the Temperley London (no.25) if I wanted long – but then I adore the pink ombre and texture of the Theia dress (no.24). Do share your favourites in the comments or tweet me @notlamb!


The under £200 dresses…
Under £200 – LONG



1. Mascara £130 ($200)

2. Young Couture Bridal £140 ($210)

3. Left: nouvelle AMSALE £140 (​$210​)​ | 4. Right: Monique Lhuillier £171 (​$258​)​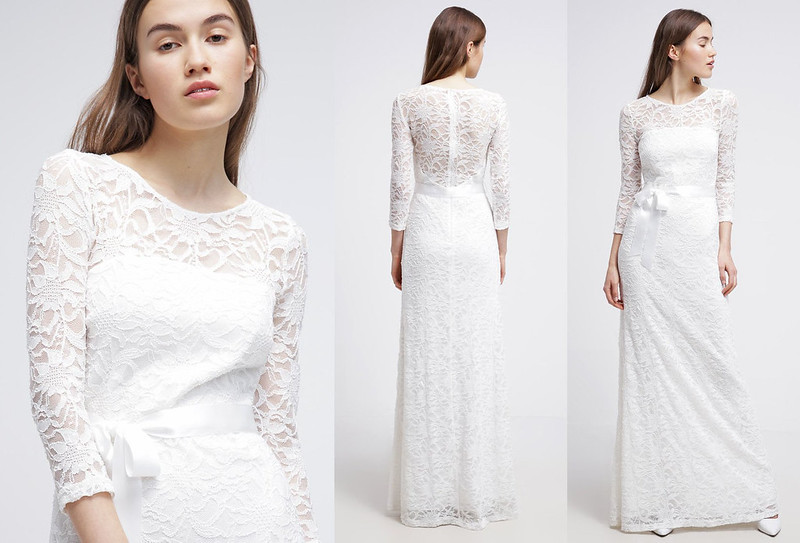 5. Young Couture Bridal £185 ($285)
Under £200 – SHORT

6. (Left: Raga £107 ($163) | 7. Middle: AQ/AQ £157 ($240) | 8. Right: TY-LR £128 ($195)

9. Chi Chi London £75 ($115)

10. Fame and Partners £90 ($139)
The under £500 dresses…
Under £500 – LONG
11. Left: Vera Wang £213 (​$320​) | 12. Middle: Terani Couture £276 (​$415​)​ | 13. Right: Monique Lhuillier £257 ($398)
14. Monsoon £499 ($770)

15. Unique £270 ($416)
Under £500 – SHORT
16. Left: Janie Bryant for Black Halo £246 ($379) | 17. Middle and Right: Self-Portrait £320 ($494)

18. Phase Eight £250 ($500)

19. Left: Monsoon £299 ($461) | 20. Right: Monsoon £349 ($539)
The under £1,000 dresses…
Under £1,000 – LONG
21. Jovani £899 ($1,388)

22. Left: Phase Eight £595 (​$1,190​)​ | 23. Middle: Badgley Mischka Collection £588 ($895) | 24. Right: Theia £851 ($1,295)

25. Temperley London £654 ($995)
Under £1,000 – SHORT
26. Left: McQ – Alexander McQueen £512 ($780) | 27. Right: Preen by Thornton Bregazzi £870 ($1,343)

28. Left: Victoria, Victoria Beckham £725 ($1,119) | 29. Right: Loyd/Ford £913 ($1,390)
30. Marchesa Notte £750 ($1,158)

P.S. Don't forget to get your wedding dresses on for the Wearing My Wedding Dress challenge (in time for 9th November)! All details here 🙂
Linking up to: iwillwearwhatilike, Visible Monday, Let It Shine, Monday Mingle, Style Sessions, Turning Heads Tuesday, Trend Spin Link-Up, What I Wore Wednesday, Brilliant Blog Posts, Throwback Thursday, Passion for Fashion Friday, Friday's Fab Favourites
Disclaimer: This post contains affiliate links. Prices correct at time of publication. Please note some prices are approximate (and may fluctuate due to exchange rates) depending on whether the retailer's site charges in GBP (Pounds Sterling) or USD (US Dollars).