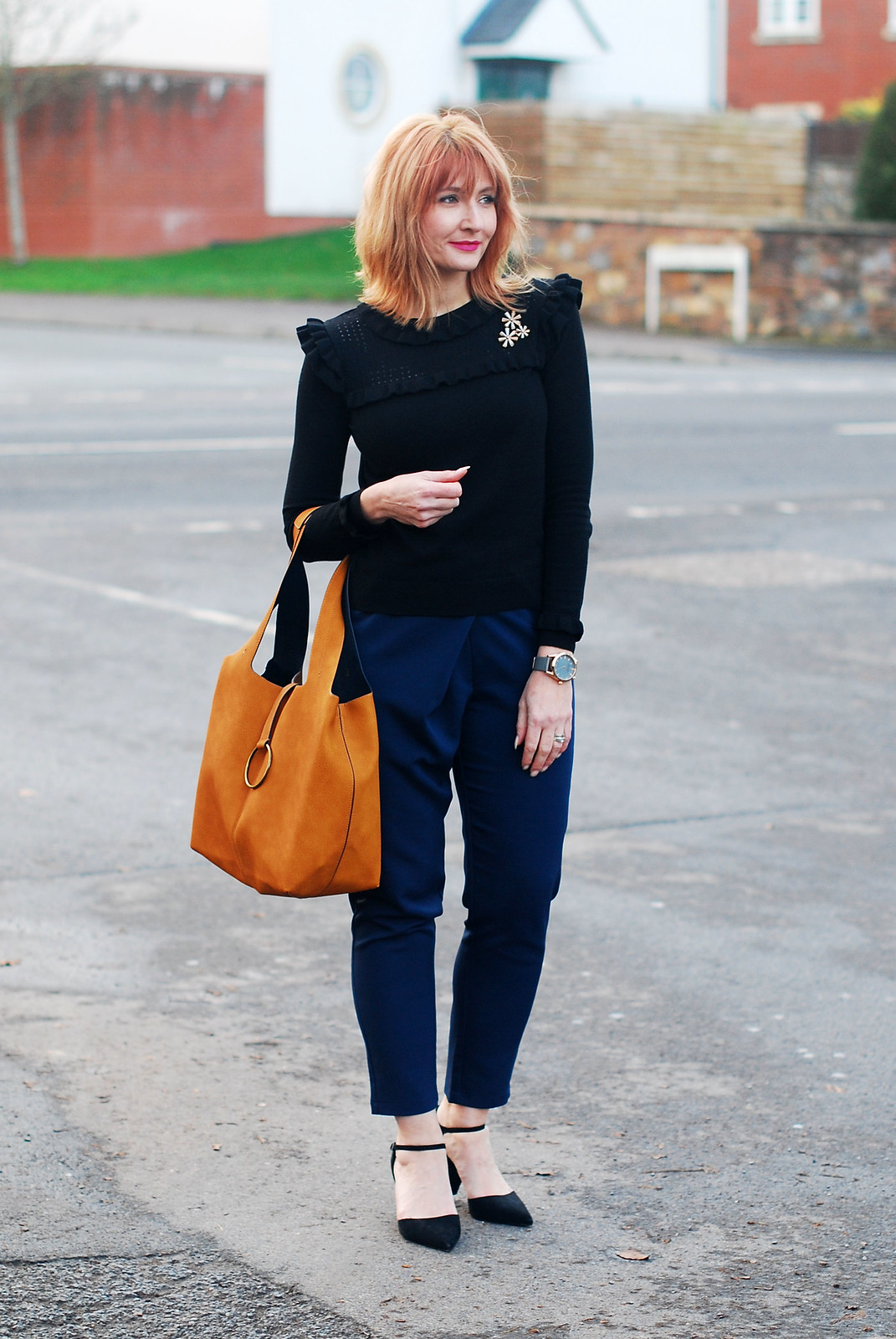 Now that normal (non-Christmas) service has resumed on the blog, let's get back to talking style!
First of all I'll address the elephant in the room: This is almost head-to-toe black, an unknown occurrence in my world! I have chickened out, however, and worn navy and black together – some people say that the verdict's out on this combination. For example, I freaked out my mum with this outfit. To explain…
I wore it on Christmas Eve when we went over to my parents' house for the festive few days with them and the rest of the family, and I felt like wearing something smart (because, you know, Santa was coming). However I know she doesn't like navy and black together, so it was a bit mean in a way because she's always interested in what I'm wearing – this time she got all "Nooo, not navy and black…!"
So apologies to my mother for the scare, but it's the way I cope with an all-dark outfit. I can't say I've really worn and navy with black before, but now I see it in the pictures I truly love it. Really unusual for me is the wearing of black next to my face, but when I saw this black ruffled sweater with cut-out detail from Marks & Spencer (sadly sold out, though I equally love this one) I fell in love.
SHOP THE LOOK:

And it didn't disappoint IRL, either: You can't quite see in the pictures (black is SO hard to photograph well!) but the entire yoke has little holes in it. So along with the ruffles it makes for a very pretty top, and much prettier than a plain black knit. I actually wore a white t-shirt underneath to show off the detail better – you definitely don't want to wear black underwear or a black top under a sweater like this because you'll lose the cut-out detail. Go for nude or white instead.
The finishing touches were a pretty flower brooch I picked up for a song (£1!) before Christmas from New Look (their sales are always so amazing for bargains) – a brooch adds a perfect amount of jewellery to a top that you can't really wear a necklace with, plus that dreamy ochre slouch hobo bag. A wonderfully muted punch of colour (if that's not a contradiction in terms) for all the black and inky navy-ness.
So my verdict? Navy and black can be worn together. Just don't show your mother.
Onto the link up! Add your outfits to this week's link up and if you've added a link to here or my button to your post you may be featured next week!
DO YOU WEAR NAVY AND BLACK TOGETHER? COMMENT BELOW, OR TAKE IT TO TWITTER @NOTLAMB!
. . . . . . . . . . . . . . . . . . . . . . . . . . . . . . . . . . . . . . . . . . . .

Thank you for joining the #iwillwearwhatilike link up! This started as a campaign on Instagram in August 2015 where women over 30 wore everything on a journalist's list of "inappropriate" items for 30+ women (including leopard print, short dresses and oversized sunglasses. Yes, really). It was so popular that I decided to carry it on weekly where women of all ages link up their fabulous style, never mind what anyone tells them not to wear!
The link up goes live every Monday at 3pm UK time and will stay open for a week. Whilst the original article was of course aimed at the 30+, you can be ANY age to link up. The only criteria is that you're wearing whatever you damn well like!

Linking up etiquette…
CLICK HERE to read the rules of linking up (and to grab the #iwillwearwhatilike button). Basically it's just good manners to link back to here – to leave a comment is even nicer!
Featured favourites
My favourite outfits from last week's link up:
(L-R) RetroChicMama | J Petite | In My Joi | Funky Forty | What Lizzy Loves
To get yourself featured next week, make sure you've included a link back to Not Dressed As Lamb or my button in your post/sidebar!
DO SHARE THE LOVE AND VISIT AS MANY LINKS AS YOU CAN (YOU NEVER KNOW WHAT OTHER LOVELY LIKE-MINDED LADIES YOU MIGHT MEET) – THE ORIGINAL INSTAGRAM CAMPAIGN FORGED SOME WONDERFUL NEW FRIENDSHIPS SO DON'T MISS OUT!