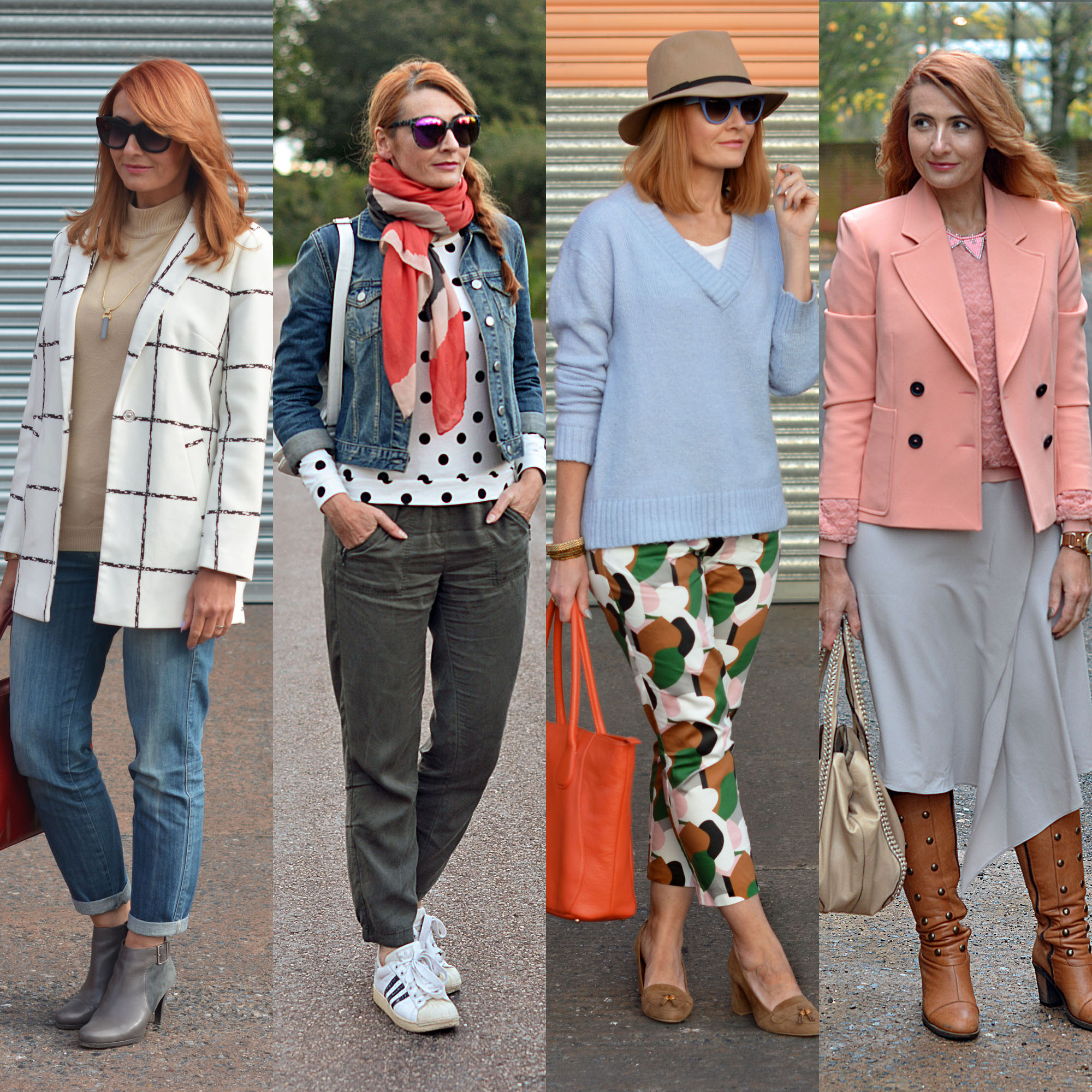 Here it is: A simple, definitive guide to six great autumn/fall outfit ideas for some over 40 style (or older, or younger) inspiration! To be honest it doesn't really make any difference - if you like my style, you like my style. I've picked some of my own outfits with shopping picks for you to hopefully get some new ideas.
After the end of each season I usually do a round up of the best outfits I wore from those previous three months, but showing summer outfits in September when we're heading into colder weather doesn't really make much sense. So I've looked back over last autumn and this spring - after all, the temperatures are about the same! - to show you some outfit ideas and tips for how to style what you may currently have in your wardrobe right now.
THE OUTFITS I'VE CHOSEN ARE LEANING TOWARDS THE AUTUMNAL TONES OF CAMEL, GREY, PEACH, DEEP RED AND ORANGE (WITH A HEFTY DOSE OF BLUE OR DENIM WITH WHICH YOU CAN NEVER GO WRONG).
The outfits I've chosen are leaning towards the autumnal tones of camel, grey, peach, deep red and orange (with a hefty dose of blue or denim with which you can never go wrong). Very similar pieces are available in the shops right now so take a look at some of the shopping ideas I've found for you.
Do check back in on Sunday morning for a post where I'll be asking you your thoughts about a particular subject where the blog is concerned... I need your feedback, my lovelies!
HAVE YOU FOUND SOME AUTUMNAL INSPIRATION HERE? TELL ME IN THE COMMENTS OR TWEET ME @NOTLAMB!
1. On casual days swap your jeans for track pants and add a denim jacket and classic sneakers
A patterned sweatshirt (in this case I chose polka dots) under a denim jacket always works - add a few great accessories that are practical, too, like a bright scarf and mirrored sunglasses.
Original post
SHOP THE LOOK:
2. Wear your printed summer trousers with knitwear, heeled loafers and a felt hat
Before you put your cropped patterned trousers away for the winter, think how they can be styled for autumn. I added a chunky v-neck sweater (and layered with a t-shirt for extra warmth) and ditched the sandals for heeled loafers instead. Bare ankles are tolerable when it gets a little cooler, but freezing cold toes are not...!
Original post
SHOP THE LOOK:
3. Toughen up a preppy look by contrasting Breton stripes with distressed denim
I love this look and often wear different variations of it: You work everything round a long line blazer, top and jeans. I went preppy-style here but you can add a sweater instead for more warmth, and the jeans can be any style (and don't have to be distressed). Take your pick with footwear - ankle boots, loafers/flats or heels all work with these three basic pieces.
Original post
SHOP THE LOOK:
4. Dress up boyfriend jeans with smart ankle boots, knitwear and a bold blazer
Another variation on the previous outfit, but this time the blazer is the stand out item. Jeans (I went for boyfriend jeans but straight leg, cropped or flares work just as well) can always be dressed up with a jacket or blazer. A funky piece of jewellery and a brightly coloured tote are all the accessories you need.
Original post
SHOP THE LOOK:
5. Go for pastels in autumn and add interest with texture and layering
I love wearing pastels in autumn! Grey and tan are good neutrals to wear with them as they make the colour connection to autumn more than white does. Shades of peach work beautifully with pastel grey, and now's the time to start wearing the knee high boots again (hooray!)
Original post
SHOP THE LOOK:
6. Mix an A-line midi skirt with suede boots and a roll neck for a 70s look. Plaid is optional
A true 1970s look is one of my favourites, and all those warm shades of brown, orange and tan were made for the autumn. A still-on-trend roll neck really gives this look that 70s vibe. And if (like me) you're not fond of showing off your legs, then this combination of knee high/OTK boots with an A-line midi is your BFF (Best Fall Friend).
Original post
SHOP THE LOOK:
LIKE THIS POST? YOU MIGHT ALSO WANT TO READ...
Linking up to:
iwillwearwhatilike
,
Visible Monday
,
Shoe and Tell
,
Turning Heads Tuesday
,
Brilliant Blog Posts
,
My Refined Style
,
Passion for Fashion Friday
,
Fun Fashion Friday